Your business is challenging enough, without connectivity being another source of headaches.
Most businesses start with one connection – for example a single FTTC (fibre) circuit. Hopefully this is business grade so that it is supported by a solid SLA (service level agreement). As they expand, they may move to a leased line type circuit, so that they can get increased speed and reliability.
If you want resilience, it's generally advised to order two circuits, from two different service providers. This is solid advice, as it does minimise a lot of risk. It's unlikely that two ISP's are going to have outages at the same time. These two circuits can also be used for load sharing, to increase your bandwidth and give you more speed (though be careful you don't kill your resilience by not being able to function if one went down!)
There is a problem with this approach though, it doesn't protect what is known as the "last mile". The last mile isn't necessarily a mile – it can be a lot more or less – but it's the term used to describe the connectivity from your premises to your local exchange. Unfortunately, this is often shared by all of the service providers, and therefore you still have a single point of failure. How many times have you heard stories of roadworks knocking the Internet out? That will almost always take out both of your connections. Truly diverse connections are difficult, and expensive.
These days, everybody has a mobile phone that's capable of being a mobile hotspot. A mobile hotspot turns your phone into an Access Point, broadcasting an SSID and allowing clients to connect. It uses the Modem already in your phone to connect to the 3G or 4G network, and shares that connection with the clients connected to the SSID. So if your Internet connection goes down you can just jump on that, right?
You can use mobile phones as hotspots, but there are a number of limitations to this:
It's not scalable. If you have 20 staff who all have to individually connect to their hotspots it just becomes a bit of a pain.
Everyone loses access to internal resources. To use the mobile hotspot, the users have to disconnect from the corporate network – so they lose access to internal servers.
It doesn't work for wired devices. Phones, printers, desktop PC's – these things typically don't connect via Wi-Fi, so mobile hotspots don't work here.
The solution is to use a mobile data failover on your network. Rather than your users individually setting up mobile hotspots, you connect a SIM card into your network, and configure your network to failover when the primary connection fails. With download speeds up to 150 Mbps, 4G will be more than capable of ensuring your business continues to run in the short term.
Many routers have this facility; you stick a USB modem into the router, and configure it for automatic failover. Some routers do it better than others, so make sure you get the right equipment.
Often though, routers are not ideally placed for mobile signal. They can be in big metal boxes, in a sealed room, somewhere in the middle of your offices – none of which are ideal for getting the best signal. Don't forget, the better the signal, the faster the data speeds, the better your user experience.
In the past, the solution to this has been to run an antenna cable out from the modem, and stick an antenna outside somewhere. It could be a roof or a wall, just somewhere that gives good signal. This solution is only feasible over short distances though – signal loss is quite high in a long run of coax cable, so the signal becomes weakened, and the data rate slower.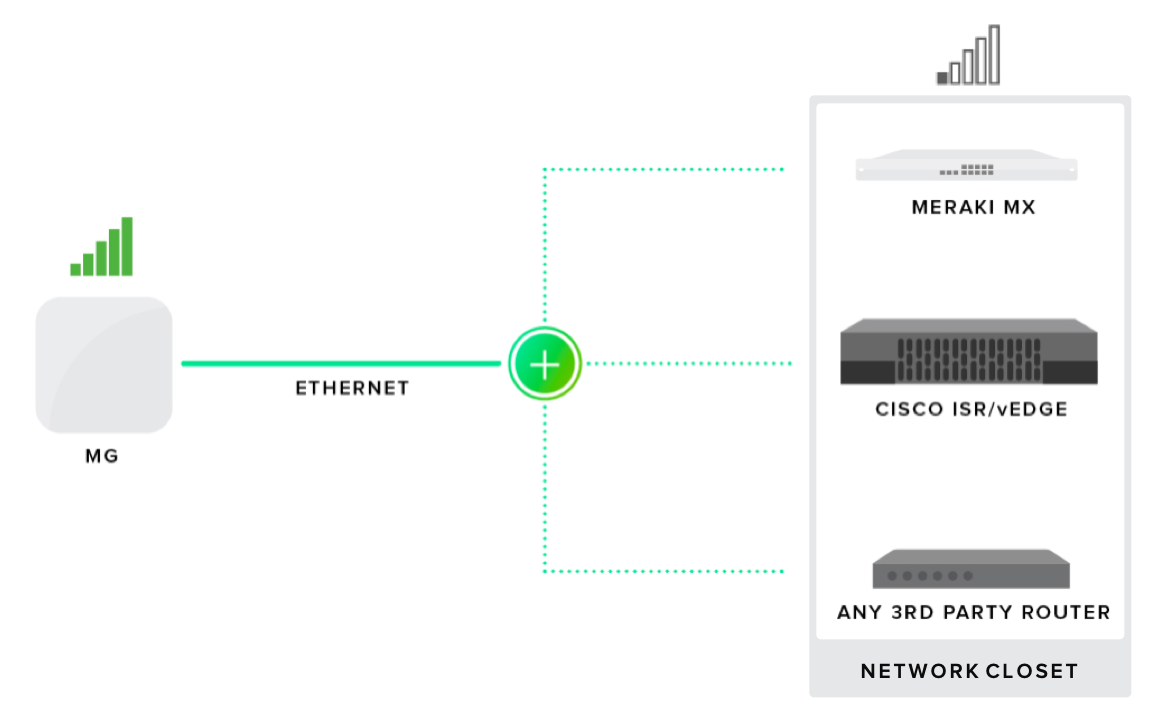 Cisco Meraki have a solution for this: The Meraki MG Cellular Gateway. In one box, this is an LTE (4G) modem that takes the SIM card and converts the signal to Ethernet. The box itself goes outside, so it can be placed wherever the mobile signal is strongest, and because it's Ethernet, it can be up to 100m away from your router. Stick a fibre media converter on there and it can be even further if necessary!
The gateways are IP67 rated, so you can safely stick them on the roof or wherever you need, to make sure you get the best signal strength to deliver the best user experience. They are LTE certified, and tested with several mobile carriers, so you should be able to get signal in most places.
And the whole thing can be simply managed from the same dashboard as the rest of the Meraki portfolio – though your router doesn't have to be Meraki to make the most of the MG.
Do you have a solution in place to keep business running if your connection went down? At Always Networks we are specialists in connectivity, making sure your business is covered for all eventualities. Why not have a no-obligation chat with us to find out more.