More often than not, people do not understand how their devices, or how the internet works. But we all know by now about the risks involved by interfacing with this amazing technology.
For individuals and businesses, it has become impossible to remain competitive without this technology, so what about the risks, how do you protect yourselves and your business?
We're here to tell you it is as simple as getting a locksmith to fit a lock. Except you need to get an IT specialist to install your anti-virus software. Of course, there's far more you can do to protect a property than just installing a lock, the same goes for cyber security too.
We advocate for doing as much as possible.
But Anti-virus and EDR is a simple and effective step to start with, so let's explain how it helps you!
What is Anti-Virus?
One of the most common types of cyber security, one you've likely heard before is Anti-Virus. A piece of software that is created specifically to help detect, prevent and remove malware (malicious software).
Once installed, most antivirus software runs automatically in the background to provide real-time protection against virus attacks. It can do its job, while you do yours.
The main duties of Anti-Virus are:
To scan specific files or directories for any malware, or known malicious patterns
To allow you to schedule scans to automatically run for you.
To remove any malicious code detected –sometimes you will be notified of an infection and asked if you want to clean the file, other programs will automatically do this in the background.
These protection programs help protect your digital files, and your hardware from malware such as worms, Trojan horses and spyware.
What is EDR?
Endpoint detection and response (EDR) is a system that continually monitors and responds to mitigate cyber threats. Endpoint, just means any remote computing device connected to a network.  Your phones, computers, and so on. Lots of endpoints.
EDR is an automated system that monitors your devices, and acts accordingly if it does indeed find something malicious. Including those that may not be easily recognised or defined by standard anti-virus.
Its primary functions are to:
Monitor and collect activity data from endpoints that could indicate a threat.
Analyse this data to identify threat patterns.
Automatically respond to identified threats to remove or contain them, and notify your cyber security team.
What Anti-Virus & EDR protect against?
You know what anti-virus & EDR is, so what can they do for your business?
Without them, you are completely vulnerable to viruses, and just like a biological virus, a digital one can spread and self-replicate itself, causing a cascade of issues for your systems and devices.
Malware such as this comes in all shapes and sizes, with a variety of nasty affects that would hinder your business.
Your files to be damaged, deleted or stolen.
Your device to be slowed.
Personal information to be gathered and forwarded to a third-party without your consent.
Your devices may suffer crashes or erratic behaviour.
Using both Anti-Virus and EDR you are preparing to defend your business against cyber threats that are both known, and unknown dangers.
Built for businesses
Everyone should put in place cyber security, but businesses should go even further. They are a more appealing target, and stand to lose far more if they are infected with malware.
They require a better, business grade service. One that offers:
A consistent antivirus platform should be installed on all workstations and servers.
Business grade antivirus solutions will include a centralised dashboard for monitoring and alerting.
Supported by a fully qualified Security Operations Center (SOC) to monitor for any unusual activity.
Security Shield package
It's our goal to put in place a multi-layered Security Shield package system to protect businesses as much as possible with an economical solution.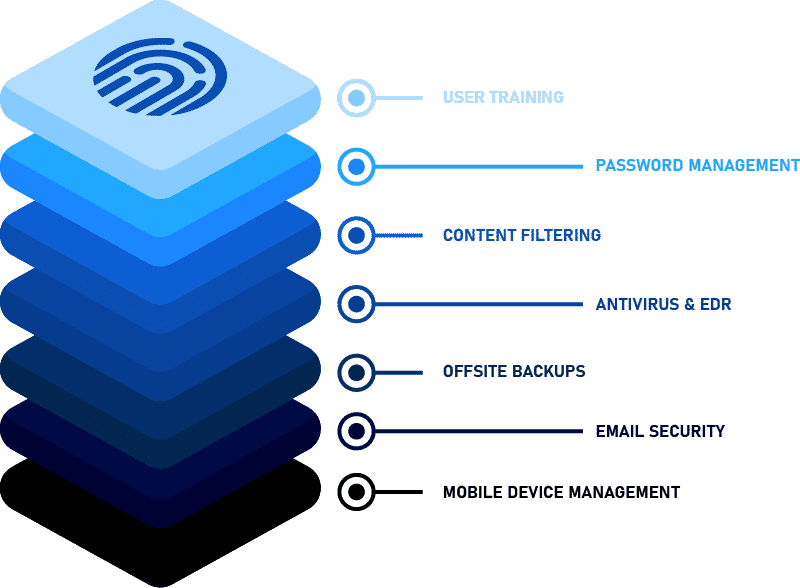 Anti-virus & EDR are just one part of the package we offer.
User training, simulated phishing attacks, cyber security policies, password management, content filtering, offsite backups, email security and mobile device management, all these as a package for just £30 per user, per month.
With this comprehensive security package only the most determined of attacks have a chance of getting through. If your business is compromised, our package also ensures that you have the backups required to get you back up and running; and on your way to make your business better than ever
Keep your eyes open for a subsequent blogs which will explore and explain other features of our Security Shield package.