What is Mobile Device Management?
Mobile Device Management (MDM) is a method of improving data security by monitoring, managing and securing work related mobile devices, such as laptops, smartphones and tablets that are used for business.
Mobile device management solutions allows admins to remotely control and distribute security policies to the mobile devices with access to company information. This ensures that hardware loss, theft, or criminal misuse can be shut down with immediate notice.
Remote working has increased the dependency on mobile devices to keep business running as usual.
But this influx of company data outside of the workplace demands that security measures can be applied remotely as well.
MDM ensures that cyber security standards can remain high, even away from the workplace; even when devices fall into the wrong hands.
Best of all, it's experts who oversee the management of mobile devices belonging to the business.
---
'The pandemic began with lockdowns and a rapid transition to remote work, and continued with economic slowdowns and associated relief efforts. The pandemic affected all aspects of life and was particularly conducive to cybercrime. In a matter of weeks, organizations had to transition to remote work, where possible. The reliance of a vastly expanded remote workforce resulted in a surge in the number and severity of attacks related to the weaknesses in underlying Internet and information technology infrastructure.'

2021 Data Breach Investigations Report (DBIR)
Risk of Mismanaged Devices
Mobile Device Management is an excellent tool for preventing breaches, maintaining security and recovering after an incident. So, what are the risks of going without MDM, when you have a mobile workforce?
Unsecured Devices:
Weak passwords, poor encryption and unregulated access to websites and apps, can leave your work related mobile devices vulnerable to any and all attacks. If you've neglected the cyber security of your devices in the past, then MDM is the perfect remedy for that.
Regardless of where your staff or devices are, with MDM you can improve your cyber security remotely. Which includes adding stronger password mandates, and remote instillation of encryption software.
Device Loss & Theft:
With a workforce on the move, and devices becoming even more portable, it's become even easier to lose or have stolen hardware that may contain crucial and sensitive business information.
With Mobile Device Management any misplaced or taken device can be wiped remotely. With MDM you don't have to risk exposing your business to fraud or data breach charges from the ICO.
Features of Mobile Device Management
Our Mobile Device Management service is packed with functionality.
Device inventory and tracking: Every device is listed, and tracked by the online portal.
App distribution: Any you want to be added or removed from a device can be done.

Remote wipe: Devices can be wiped of any company related data.
Password enforcement: Stronger passwords can be mandated for your devices.

App whitelisting and blacklisting: Access can be given, or restricted for any website or application.

Data encryption enforcement: Encryption software is mandated to maintain a high level of security.
Whatever changes you require to be made to your business devices, let your security partners know, and they'll issue the changes remotely, with immediate notice.
Security Shield package
It's our goal to put in place a multi-layered Security Shield package system to protect businesses as much as possible with an economical solution.
Our Mobile Device Management service is just one part of the wider package that we offer, alongside User training, simulated phishing attacks, cyber security policies, password management, content filtering and offsite backups, all these as a package for just £30 per user, per month.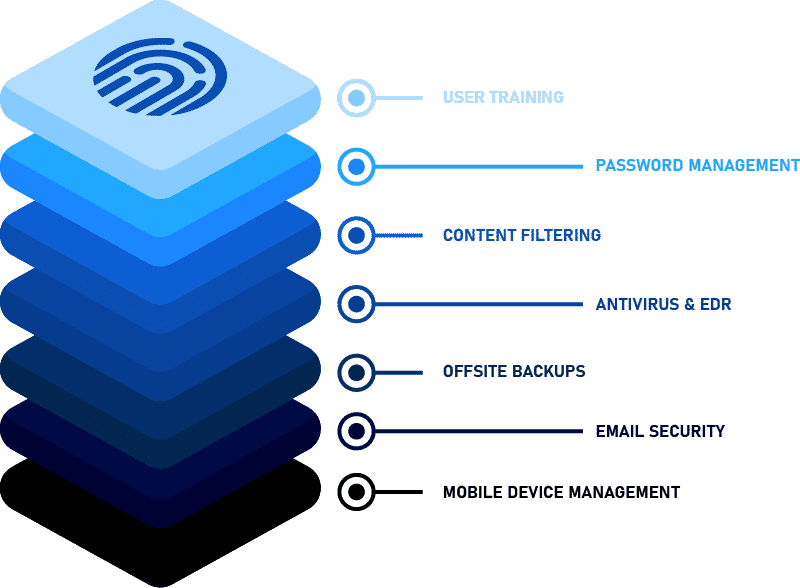 With this comprehensive security package only the most determined of attacks have a chance of getting through. If your business is compromised, our package also ensures that you have the backups required to get you back up and running; and on your way to make your business better than ever
Keep your eyes open for a subsequent blogs which will explore and explain other features of our Security Shield package.