Cyber security policies
A policy is a set of guidelines for your organisation and employees in order to achieve a specific result and standard.
You can have a policy for everything, a policy in case of a fire, how to dispose of documents properly, even a policy on how to make the office teas and coffees if you wanted.
But far too often, cyber security policies are not given the consideration they deserve, considering the ever present risk and substantial hazard a cyber-attack creates.
Cyber security should be the concern of everyone, not just the employer or IT personnel. Everyone can contribute to the weakening or strengthening of your business's cyber security depending on their conduct.
The thing is, some people are more clued in than others to what is best practice.
Whether that's leaving an unprotected work laptop on the train, exposing the business to data loss. Or that one savvy employee who uses two-factor authentication on their devices, making it extremely unlikely they will ever be hacked.
That discrepancy in your employees action could be the difference between a hacking attempt, and a hacking success, leaving your with substantial damages.
All it takes is one weak link in the chain.
Don't leave it up to chance.
Put in place cyber security polices for your business. Speak in one consistent and instructive voice to all your employees, that can be applied organization wide.
Clear and accessible policies lets your users know where they stand and what you expect from them on different matters.
Policies are only as effective as what's written inside and how available they are.
They need to be understandable.
They need to be specific.
They need to be comprehensive.
They need to be easily seen!
But what actually needs to be included in a policy?
Our cyber security policy templates
Cyber security is not a topic that comes naturally to many people, that's why we've got a whole portfolio of policies ready to be used by businesses.
Expertly written, easy to understand, and ready to go.
Which saves you the time and cost of research, writing and expensive solicitor proofing of your policies.
We provide a wide array of cyber security policy templates, that will cover everything you need. Look at our list below of our most widely applicable ones, how familiar are you with these cyber security subjects?
Would you or employees know already this information and operate accordingly?
Acceptable Encryption Policy
Acceptable Use Policy
Anti-Malware Policy
Clean Desk Policy
Data & Information Technology Security Policy
Data Breach Response Policy
Data Protection Policy
Email Policy
Digital Signature Acceptance Policy
Disaster Recovery Plan Policy
Internet Monitoring and Filtering Policy
Password Policy
Remote Access Mobile Computing Storage Policy
Removable Media Policy
Risk Assessment Policy
Secure Remote Working Policy
The policy templates we provide give you the means to communicate the comprehensive standard of cyber security you expect, and need from your employees.
Combined with our adaptive user training and simulated phishing attack services we can help make sure there are no weak chains in your organization.
With our service you'll have the means to create your own polices as well as adjust our templates to suit your need.
Insurance stipulation
Having policies can be a stipulation of your cyber insurance. Just like when you buy home insurance, they'll ask what locks and alarms you have to protect yourself, before they risk insuring. Having layers of cyber security, and the policies to prove it can lower your insurance premiums.
Security Shield package
Creating policies gives you the means to set your expectations and standards in a way that is accessible and understandable by your employees.
Our templates gives you what you need, and saves you time having to write them yourselves.
It's our goal to put in place a multi-layered Security Shield package system to protect your businesses as much as possible with an economical solution.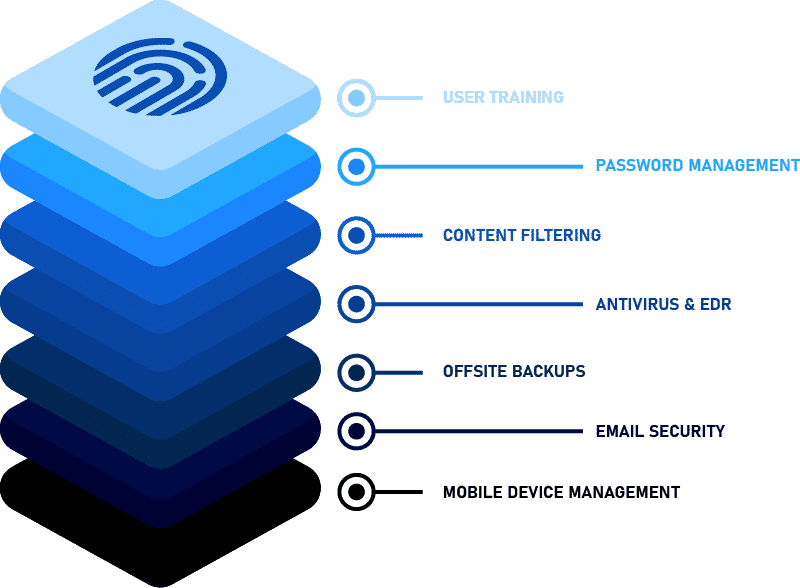 User training, simulated phishing attacks, password management, content filtering, antivirus & EDR, offsite backups, email security and mobile device management, all these as a package for just £30 per user, per month.
With this comprehensive security package only the most determined of attacks have a chance of getting through. If your business is compromised, our package also ensures that you have the backups required to get you back up and running; and on your way to make your business better than ever
Keep your eyes open for a subsequent blogs which will explore and explain other features of our Security Shield package.